There are 209,000

unfilled

cybersecurity jobs in the u.s.
Get the training you need to become an in-demand cybersecurity professional.
Motivated individuals with the right cybersecurity training have a tremendous career opportunity before them.
Enroll in UMBC Training Centers' Certified Cyber Analyst/Operator program to get the skills, certifications, and problem-solving capacities necessary to meet the nation's Cyber Defense challenge.
All training held at our Columbia, MD facility, with the option to join a daytime or evening training cohort.
The same DoD-approved training as the Intelligence Community.
This program provides you with the skills, knowledge, and credentials required to successfully launch your cybersecurity career. UMBC Training Centers' Certified Cyber Analyst/Operator program guides you through our three sequential cybersecurity certifications:
Certificate in Cyber Foundations

Certificate in Cyber Operations

Certificate in Cybersecurity
Over the course of the program, participants will earn their CompTIA A+, Network+, and Security+, and PenTest+ certifications, as well as and Cisco's CCENT certification.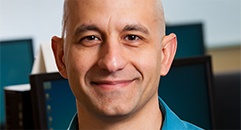 Homer Minnick, III
Director, Cybersecurity Academy
Homer directs workforce training programs focused on developing new cybersecurity professionals. Before spearheading our cyber program at UMBC Training Centers, he served in the U.S. Army for 20 years as a CNO Operator and Technical Advisor. Profiting from this extensive experience, Homer recognizes that cybersecurity is a broad, complex, and constantly evolving subject, and that training and educating such a diverse cyber workforce is essential for the future success of our nation's defense and economy.